Nuvvula Podi
Ingredients:
1 c white sesame seeds
6 whole dry red chilies, crushed
Salt to taste.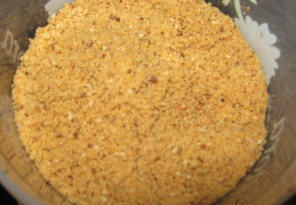 cooking time:
Method:
Heat a heavy bottom pan and dry roast the sesame seeds.
After a while put in the red chilies and rast them also.
Take off heat and let cool.
Grind both the things together and mix salt and store.
A very easy recipe for dry sesame seeds chutney which is very fast to prepare and goes very well with hot rice and ghee