Palak Puri
Ingredients:
1 cups whole wheat flour (atta)
oil (tel) for frying
salt (namak) as per taste
1 tblsp ghee or oil
200 gms spinach (palak)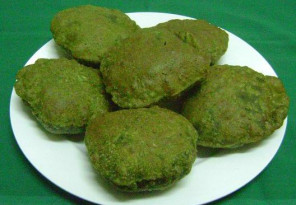 cooking time:
Method:
Blanch the spinach leaves in boiling salted water.
Remove the spinach leaves and make into a paste.
Mix the palak paste in the atta, mix in salt, ghee or oil while kneading into semi-hard dough.
Keep the dough covered for about 10 minutes with a muslin cloth.
Divide into 16 equal sized balls and roll into disc shape.
Deep fry in hot oil.
Serve hot palak poori with dal or sabji.