Panasapattu Curry
Ingredients:
1 small raw jackfruit
1 tblsp oil
1 1/2 tblsp tamarind pulp
3 green chilies, chopped
1 tsp turmeric powder
Salt to taste
1 tsp chana dal
1 tsp urad dal
1 tsp mustard seeds
2 whole dry red chilies
2 tsp coarsely ground ground nuts
A small bunch of curry leaves
4 cups water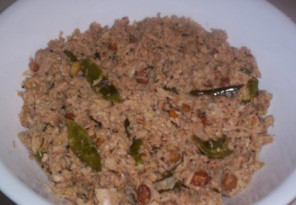 cooking time:
Method:
Peel and cut the jackfruit into small cubes by rubbing oil in your hands.
Now add turmeric in water and boil the jackfruit for around fifteen minutes till it is tender.
In a pan heat the oil and add the green chilies, chana dal, urad dal, mustard seeds whole red chilies, ground nuts and curry leaves.
Once they start spluttering, add tamarind paste and a little water.
Now add the boiled jackfruit and mix well.
Serve hot with steaming rice.
In Andhra Pradesh, raw jackfruit is called panasapattu and this is a traditional recipe with the flavors of tamarind, lentils, groundnuts and spices.