Paneer Bhurji
Ingredients:
200 gms Paneer
1 tbsp Oil
1/4 tsp Cumin seeds
2 Green Chillies
1 Small Onion
1/4 tsp Turmeric Powder
1/2 tsp Garam Masala Powder
1 tsp Ginger-Garlic Paste
1 medium Tomato
1/2 tsp Salt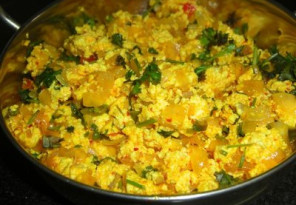 cooking time:
Method:
Chop the onions, tomatoes and chillies finely.
Heat oil in a deep bottomed pan, add the cumin seeds, chopped onions and the ginger garlic paste, fry till brown.
Add the chillies and tomatoes and fry till they are soft and pulpy.
Add turmeric powder, garam masala powder, salt and little water so that all the masalas are well combined.
Add grated paneer and fry for 5 minutes till the paneer blends into the masala.
Garnish with chopped coriander and serve hot.