Paneer Coconut Gravy
Ingredients:
250 gms Cottage Cheese (Paneer)
3 Onion (Pyaj)
4 - 5 cloves Garlic (Lasun)
1 " long piece Ginger (Adrak)
4 Tomato (Tamatar)
Coriander Leaves (Dhania Patta)
2 fresh red chillies
1/2 tsp Cumin Seed (Jeera)
1 tsp Coriander Seeds Powder (Dhania Powder)
1/2 tsp Red Chili Powder (Lal Mirchi)
1/2 tsp Sugar
3 tblsp Groundnut (Moong Fali) Powder
1 cup Coconut Milk
1 tsp Lime or Lemon Juice (Nimbu)
2 tblsp Clarified Butter (Ghee)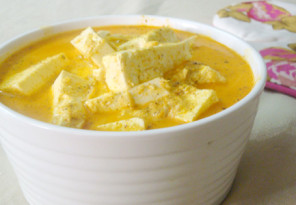 cooking time:
Method:
Cut paneer in squares.
Grind onions to a paste.
Grind tomatoes finely.
Grind ginger (adrak), garlic (lasun) to a paste.
Chop coriander leaves (dhania patta) very finely.
Chop fresh red chillies very finely.
Roast the groundnuts and grind them to a fine paste.
To make coconut milk, grate fresh coconut and mince in a grinder with 1 cup of water. Sieve the mixture and coconut milk is ready.
Heat clarified butter (ghee) in a pan.
Add cumin seed (jeera), onion (pyaj) and pink it, stirring continously.
Add the ginger garlic paste and stir it for 1 minute
Now add tomato and fresh red chilly.
Cook for sometime and then add tomato (tamatar).
Continue cooking it on medium flame till ghee/oil begins to separate.
Add coriander seeds powder (dhania powder), red chili powder (lal mirchi), salt, sugar groundnut (moong fali) powder, coconut milk.
Add the paneer pieces and let the gravy cook till it thickens.
Take off the fire and serve hot garnish it with well chopped coriander leaves.