Paneer Parantha
Ingredients:
100 gms Grated Paneer
1 finely chopped Onion
Coriander leaves finely chopped
Small piece of Ginger (grated)
1 or 2 finely chopped green Chilies
Salt, Red Chili powder and Graram masala as per taste
1/2 tsp Ajwain (optional)
Butter / Oil for frying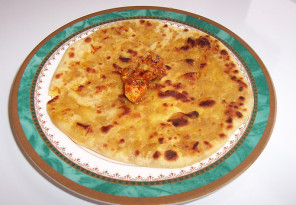 cooking time:
Method:
Make dough out of whole wheat flour (atta), as you would do for any paratha/roti.
In a bowl mix all the stuffing ingredients.
Make two medium size chapati, add the filling to the one chapati and cover it with the second one. Now roll it slightly.
Cook on a pre-heated Tawa (flat griddle plate).
Turn it and pour half tablespoon oil or butter.
Spread it on the paratha and shallow fry over low heat. Turn it and again pour oil or butter on the other side.
Cook on a low heat till golden brown.
Serve paneer paratha hot with yogurt (curd) and your favorite chutney or with pickle.
Note: 
Do not add salt to the filling before, as it will leave water. Add salt only at the time of preparation.