Peanut Butter Cookies
Ingredients:
2 1/2 cup all-purpose Flour
1/2 tsp Baking Soda
1/2 lb Salted Butter (softened)
1/2 tsp Baking Powder
1/2 tsp Salt
1 cup Peanuts (roasted, salted and ground in food processor)
1 cup Brown Sugar (packed)
1 cup Sugar (granulated)
1 cup extra-crunchy Peanut Butter
2 large Eggs
2 tsp Vanilla Extract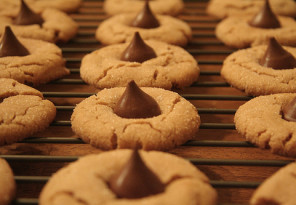 cooking time:
Method:
Arrange ovens rack to upper and lower-middle positions.
Cover two cookie sheets with parchment paper.
Whisk flour, baking soda, baking powder and salt together in a bowl and set it aside.
In a mixer, pour butter and run till butter becomes creamy.
Combine sugar and mix till softened, it will take about 3 minutes.
Beat in peanut butter till well incorporated, then eggs, one at a time, then vanilla.
Gently stir dry ingredients into peanut butter mixture
Combine ground peanuts; stir gently until just incorporated
Roll dough into 2" balls.
Place balls on parchment-lined cookie sheets.
Leave 2 1/2 " between each dough balls.
Press each dough ball twice with dinner fork dipped in cold water to make crisscross design.
Bake it in a preheated oven at 350 degrees for 10-12 minutes.
Reverse position of cookie sheets halfway through baking time, until cookies are puffed and slightly brown along edges but not on top, 10 to 12 minutes
Let the cookies to cool for about 4-5 minutes on cookie sheet so that they are slightly set.
After they are slightly set, place on wire rack to make them cool completely.