Penne Bake
Ingredients:
12 oz Penne
26 oz Spaghetti Sauce
8 oz sliced Provolone Cheese
6 oz shredded Mozzarella Cheese
16 oz Sour Cream
1 Pound of ground meat
1 cup chopped Onion
2 cup shredded Parmesan Cheese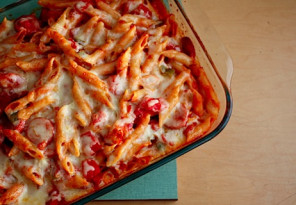 cooking time:
Method:
Cook pasta according to package directions. Drain
Brown meat and onion over medium heat.
Add spaghetti sauce and simmer 10 minutes.
Layer as follows in a buttered baking dish: 1/2 the penne, provolone cheese, sour cream, 1/2 spaghetti sauce
remaining penne mozzarella cheese, and remaining sauce. Top with Parmesan cheese.
Bake uncovered at 350 degrees for 30 minutes or until cheeses are melted.