Pesarapappu Payasam
Ingredients:
1 tblsp ghee
1 c dhuli moong dal
1 c jaggery, crushed
2 tsp elaichi powder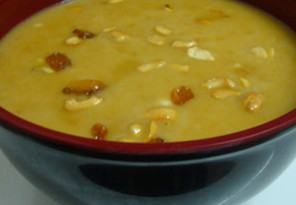 cooking time:
Method:
First wash the moong dal and keep aside.
In a deep, thick dish, heat ghee and roast the moong dal till you can smell a good flavor.
Now add the jaggery and let it melt.
Mix well and fry till the dal is done and it looks like a smooth mixture.
Now add the elaichi powder and mix well.
Take off the heat, garnish with grated coconut and serve hot.
A very simple recipe of making payasam (which means kheer or a sweet dish) of moong dal which is sweetened by jaggery.