Potato Kidney Bean Salad
Ingredients:
1 Green Chilli Crushed with salt
1 tsp Oil
Salt to taste
Pepper to taste
4 Potatoes boiled, peeled and cubed
Fresh chopped coriander to garnish
2 cup boiled Kidney Beans
2 Onion finely chopped
Lemon juice to taste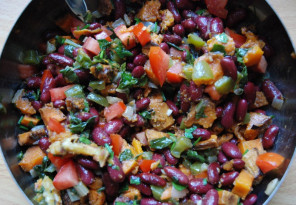 cooking time:
Method:
Heat oil in a pan on medium level for a few seconds. Add the onions and green chillies. Fry on medium/high heat for about 2 minute(s) or till the onions are transparent.
Add the pre-boiled potatoes cubes, kidney beans, salt, pepper and lemon juice. Keep on low heat for about 3 minutes.
Garnish with finely chopped fresh coriander.
Serve chilled or at room temperature.