Pound Cake
Ingredients:
2 eggs
1/2 tsp lemon extract
1/4 tsp baking soda
1/2 cup flour
3/4 tsp baking powder
1 cup sugar
1/2 cup butter
1/2 tsp vanilla extract
1/2 cup butter milk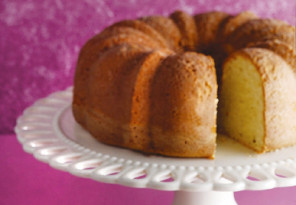 cooking time:
Method:
Mix all the ingredients in a bowl till smoothly blended.
Prepare the tin by oiling it and pour the mixture into it.
Bake the tin at 325 degree F for 60 minutes.
The Pound Cake is ready.
It can be served with fruits or frost as liked.
Pound cake is very yummy and delicious. Learn how to make this cake all by yourself.