Pulissery
Ingredients:
10 to 12 pieces Ripe Mango or Pineapple
1 cup Thick yogurt
a few Curry leaves
1/4 tsp Turmeric powder
1/2 tsp Chilli powder
1/8 tsp Cumin seeds
1/2 tsp Mustard
2 Red chilli
6 Green Chilly
1 tbsp Oil
Salt to taste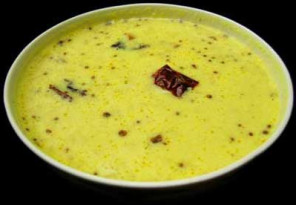 cooking time:
Method:
Cook mango/pineapple with 3 green chillies, turmeric powder, chilli powder, cumin powder water and salt
Beat yogurt and add it to the mixture ,stirring it regularly.
Remove the mixture from heat.
Season with mustard seeds, curry leaves, fenugreek and whole red chilly, green chillies.
Ready to serve.
A delicious dish made of curd and fruit to make your Onam special