Pumpkin Cake
Ingredients:
2 cup Pumpkin (Kadhu)
3 cup Sugar
1 cup Oil
3 Eggs
3 cup Fine Wheat Flour (Maida)
1/2 tsp Salt
1/2 tsp Baking Powder
1 tsp Baking Soda
1 tsp Cloves Powder (Lavang)
1 tsp Cinnamon Powder (Tuj/Dalchini)
1 tsp Nutmeg Powder (Jaiphal)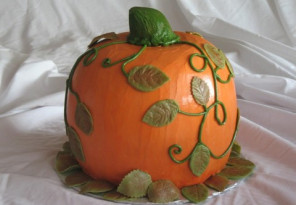 cooking time:
Method:
In a blender, add pumpkin, sugar, oil and eggs.
In a bowl sift flour, salt and baking powder and baking soda.
Now mix the blended pumpkin and egg mixture to the dry ingredients and mix well.
Pour the mixture in a wax paper lined 8" pan.
Bake the pan in a preheated oven at 350F for 1 hour and fifiteen minute.
When done take it out with the help of a knife and dust with powdered sugar.