Rice Khichdi
Ingredients:
2 cups rice
1 cup toor dhal
5 cloves
1 cinnamon
5 cardamom
2 finely sliced onion
6 to 8 small size tomatoes
4 slitted into halves green chillies
12 to 15 mint leaves
1/2 bundle corriander leaves
1 tsp garlic paste
1 1/2 tsp ginger paste
salt to taste
1/4 cup veg. oil
a few curry leaves
3 cups water
a pinch of turmeric powder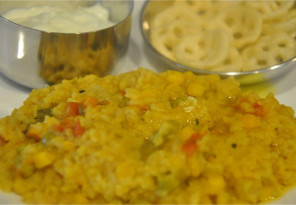 cooking time:
Method:
Wash and cook dhal with a pinch of turmeric powder. Set aside.
Don't discard the cooked dhal water.
Fry the onions, cloves, cinnamon and cardamom.
When onions are golden add slit green chillies, mint, curry leaves and a part of the corriander leaves.
Keep the remaining corriander leaves for garnishing.
Add salt, ginger and garlic paste. Fry for 2 minutes.
Add the washed, drained rice and chopped tomatoes. Fry for few minutes.
Add the cooked dhal, mix well and add 3 cups of water.
Add cooked dhal water. Cook it for 8 to 10 minutes till the rice is done.
Garnish with chopped corriander leaves and serve hot.