Rosemary Red Pepper Chicken
Ingredients:
1 small onion, thinly sliced
4 cloves minced garlic
2 tblsp cold water
1/4 cup dry vermouth
1/4 tsp coarsely ground pepper
1/2 tsp dried oregano
1 medium sliced red pepper
1 1/2 tblsp cornstarch
8 skinless, boneless chicken breast halves
2 tsp dried rosemary
Salt to taste
250 gms Turkey Spicy Sausages, skinned
1/4 cup chopped fresh parsley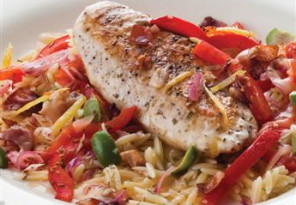 cooking time:
Method:
In a cooker, combine onion, red pepper, garlic, rosemary, and oregano.
Crumble sausages over onion mixture.
Arrange chicken breasts in a single layer over sausage.
Sprinkle pepper and pour in vermouth.
Cover, and cook on low setting for 5 to 7 hours or until chicken is tender.
Transfer chicken to a warm, deep platter, and cover to keep warm.
In a small bowl, stir together cornstarch and cold water. Stir into cooking liquid in slow cooker. Increase heat to High, and cover.
Cook until sauce is thickened (about 10 more minutes) while stirring.
Season to taste with salt.
Spoon sauce over chicken, and sprinkle with parsley.