Sambhar Rice
Ingredients:
1 cup rice
1 cup toor dhal (soak the dhal for 3-4 hours in hot water)
1/4 tsp turmeric powder
1/2 tsp. coriander powder
1/2 tsp chilly powder
2 tsp sambar powder
salt to taste
1 tsp tamarind paste
ghee for frying
1/2 tsp mustard seeds
a few curry leaves
a pinch of asafoetida
2 cashews (optional)
few chopped shallots (sambar onions)
a few chopped corriander leaves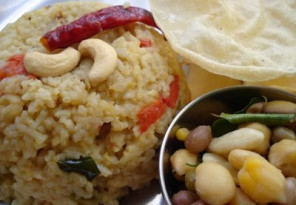 cooking time:
Method:
Wash rice and dhal, drain away all the water, to the rice/dhal mixture add the turmeric powder, corriander powder, chilly powder, sambar powder and salt.
Add 4 cups of water to tamrind paste mix and pour into the dhal/rice mixture.
Cook in pressure cooker for 10 to 12 minutes.
Add ghee in the pan and fry the shallots (sambar onions), as it's getting brown add the mustard seeds, cashewnuts, curry leaves.
Add this seasoning to the Sambar Bath.
Sprinkle with chopped Corriander Leaves.
Serve hot.