Sarsoon Machhi
Ingredients:
1/2 kg Rohu or Hilsa fish, cut into small pieces
1/2 tsp coriander leaves chopped
1 tsp mustard seeds
1 tsp poppy seeds
1 tsp cumin seeds
4-5 kashmiri chillies
8 garlic flakes
1/2 tsp turmeric powder
1/4 tsp kalonji
1 small raw mango cut into pieces or 2 tomatoes
4 green chillies chopped
a little curry leaves
Salt To Taste
4 tbsp mustard oil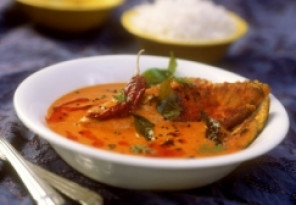 cooking time:
Method:
Clean and wash fish pieces well.
Apply one tsp. turmeric powder and two tsp. salt to the fish and keep aside.
Heat oil in a flat vessel.
Add kalonji and curry leaves .
When the kalonji splutters, add the fish pieces and light fry them. Grind the rest of the ingredients to a paste.
Add 2 cups of water for the gravy and stir well.
Add the garam masala and salt. Simmer till the gravy becomes thick.
Garnish with coriander leaves and green chillies. Serve sarsoon machhi hot with plain rice.