Sesame Seed Cookies
Ingredients:
1/2 cup Sesame Seeds
4 cups Maida
1 cup Sugar
1 cup Butter
3 Eggs
1 tblsp Cake Seeds (Caraway Seeds)
1/2 cupMilk to mix
Salt a pinch
1/4 tsp Baking Soda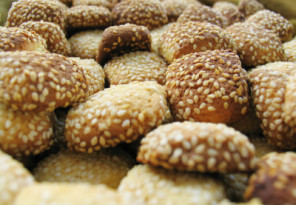 cooking time:
Method:
Sieve flour with salt and baking powder in a bowl.
Add sugar, butter, 2 eggs, cake seeds, blend well.
Add milk little by little and knead to a smooth dough.
roll out on a floured board 1cm thick and cut out with fancy cookie cutters.
Brush with remaining egg (well beaten) and sprinkle heavily with sesame seeds.
Place on a greased baking tray.
Bake in a moderate oven for 10 minutes.
Cool and keep aside. good to be served with tea.