Simnel Cake
Ingredients:
125 gms Butter
125 gms Sugar (Cheeni)
3 Eggs
1 cup Refined Flour (Atta)
1 tsp Baking Powder
1 pinch Salt (Namak)
1/2 tsp dried Ginger (Adrak) Powder
1/2 tsp Cinnamon (Tuj/Dalchini) Powder
1/4 tsp Nutmeg (Jaiphal) Powder
125 gms Currants (Kishmish)
125 gms Sultanas
125 gms Raisins (Kishmish)
1/2 cup chopped Mixed Fruit
500 gms Marzipan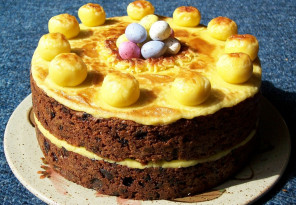 cooking time:
Method:
In a bowl, cream together the butter, sugar and eggs.
Mix the flour, baking powder, salt and ground spices.
Blend in with the butter mixture, adding little milk if required to facilitate blending.
Add currants, sultanas, raisins and mixed fruit to the batter.
Butter a 9 inch cake tin and pour in half the batter.
Roll out half the marzipan to fit the circumference of the pan.
Place over the cake batter.
Pour the rest of the batter over the marzipan.
Bake in a preheated oven (180 c) for about one hour.
Remove cake form the oven when cool, decorate the top of the cake with the remainng marzipan.