Singhade Ka Halwa
Ingredients:
500 gm hare singhade (fresh water caltrop)
125 gm sugar
100 gm thickened milk (mawa)
1 tbsp clarified butter (ghee)
1 cup milk (doodh)
1/4 tsp cardamom powder (elaichi)
5-6 cashew nut (kaju)
5-6 almond (badam)
few drops of yellow colour (peela rang)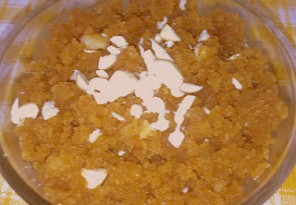 cooking time:
Method:
Peel singhade and grate them.
Fry singhade in a pan with ghee.
Grate thickened milk and add to the above until it becomes light brown.
Boil milk, sugar and 1 cup milk in a container.
Add thickened milk and stir continuously until it thickens.
Then add 2-3 drops of colour and remove it from the flame.
Garnish with cardamom powder and finely chopped almond and cashew nuts and serve hot.
Here's a tasty singhade (kuttu ka halwa) sweet dish and is best for those who are fasting. Learn how to make singhade ka halwa.