Strawberry Pudding
Ingredients:
12 merry biscuits
400 gm fresh cream
1 packet strawberry jelly
1 tin cherry
2 cup sugar
3 cup milk
3 tbsp custard powder
1 tsp vanilla essence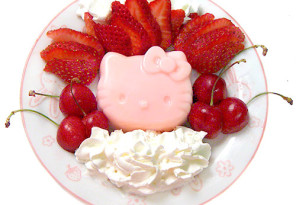 cooking time:
Method:
Dissolve custard powder in 1/2 cup milk.
Add 3 tbsp sugar to the remaining milk and boil it.
After 1 boil, add custard powder and stir continuously until it thickens.
Then remove it from the flame and add essence to it. Let it cool and place in the refrigerator.
Prepare the jelly according to the instructions.
Let it cool and refrigerate it for setting. Then take it out.
Grind rest of the sugar and add it to the cream.
Beat it until it thickens and add cream to it.
Take out the seeds of cherries and keep its juice aside.
Place half of the custard in a bowl and spread half of the jelly over it.
Now dip each biscuit in the juice taken out of cherry tin and place it on the jelly.
Spread cherry on the biscuits.
Now spread the remaining jelly on it and then the remaining custard.
Garnish with cherries and serve it chilled.
Here's a scrumptious pudding recipe with strawberries and biscuits. Learn how to make strawberry pudding.