Stuffed Baigan
Ingredients:
6 Baingan / Brinjal
2 green chilies (finely chopped)
1 onion (finely chopped)
1/2 cup ghee / vegetable oil
2 tbsp lemon juice
1 tsp salt
Spices :
4 tbsp coriander seeds
2 tbsp aniseeds
1 tbsp cumin seeds
1 tbsp fenugreek seeds
1 tsp turmeric powder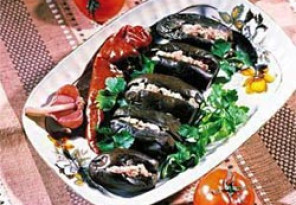 cooking time:
Method:
Clean the baigan and slit them lengthways without halving them.
Roast the first four spices together and then grind them to powder and add the turmeric powder.
Now mix with the salt, lemon juice and green chilies to make a stuffing.
Stuff the mixture between baigan (bringal) and tie them back together with cotton thread to prevent stuffing escaping.
Heat the oil / ghee in a large frying-pan and fry the onions until light brown. Add the brinjal and cover tightly.
Leave to cook turning occasionally until cooked for about 20-30 minutes.
Serve the stuffed baigan (bringal) hot with roti or paratha.