Sweet Chocolate Cake
Ingredients:
200g (7 oz) flour
5 ml (1 tsp) baking soda
5ml (1 tsp) baking powder
30 ml (two tablespoons) of cocoa powder
150 g (5 oz) brown sugar
30 ml (two tablespoons) golden syrup
2 eggs
150 ml (¼ liter) oil
150 ml (¼ liter) of milk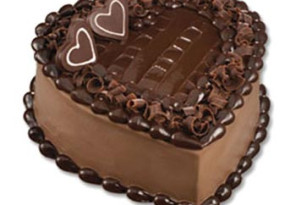 cooking time: 25 minutes
Method:
Grease and flour 23 cm (9 inch) cake tin.
Sift together all dry ingredients in a bowl.
Put sugar, syrup, eggs, oil and milk in a manhole in the middle of the dry ingredients.
Beat vigorously until mixture is smooth.
Pour the mixture into the prepared pan. Bake for 45-50 minutes, or until a skewer inserted into center of cake comes out clean.
Leave in the pan in the oven for a few minutes and turn on the rack to cool.
For the glaze: Place chocolate and cream in small saucepan and heat gently until melted.
Cool slightly and pour evenly over cake.
Garnish with nuts.