Sweetest Heart Cake
Ingredients:
1 (8 inch) Round Cake (any flavor)
1 (8 inch) Square Cake (any flavor)
16 oz Vanilla Frosting (pink colored)
1 large White Gumdrop
1-1/2 cup flaked Coconut (tinted pink to match frosting)
2 large Red Gumdrops
Granulated Sugar
Red Chewy Fruit Snack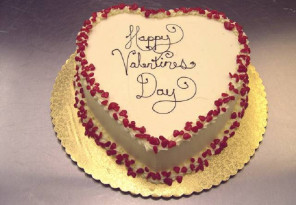 cooking time:
Method:
Reduce round cake into two equal semi-circles.
Place square cake and semi-circles on serving plate.
Connect with some frosting.
Frost entire cake with remaining frosting.
Drizzle it with coconut.
Flatten 1 red gumdrop with rolling pin on slightly sugared surface.
Make and cut out heart shape with cookie cutter.
Repeat it with remaining red gumdrop and white gumdrop.
Place 3 gumdrop hearts on cake, overlapping slightly.
Cut chewy fruit snack into 1/2-inch strips.
Tie strips into loose bow and place on cake.