Tomato Rasam
Ingredients:
2 Tomatoes
2 Red chillies
4 cups Water of boiled dal (stock)
1 stalk Curry leaves
1 stalk Mint leaves
1 stalk Coriander leaves
1- 2 cloves Garlic grated
2-3 pinches Clove-cinnamon powder
1/2 tsp Sambhar masala
8-10 Peppercorns
2 pinch Hing (Asafoetida)
1 1/2 tsp Cumin seeds
1/2 tsp Mustard seeds
1 marble sized ball of jaggery or 1/2 tsp. sugar
1 small strip Tamarind
1 tbsp Ghee or oil
Salt to taste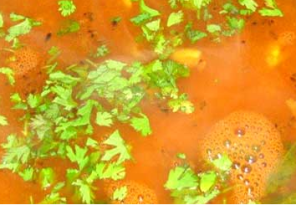 cooking time:
Method:
Put whole tomatoes in boiling water, simmer for 3 minutes, keep it aside to cool.
Heat 1/4 tsp. oil in a small pan, add pepper corns and 1 tsp. cumin seeds and roast till aromatic, pound it in a mortar till powdered. Keep aside.
Peel away the broken skin of boiled tomatoes and mash them into a pulp
To the thick tomato pulp, add roasted whole chillies, all leaves, all masalas, salt, tamarind, jaggery and blend it with the blender.
In a deep pan, add the stock.
Heat ghee in a small pan, add mustard and remaining cumin seeds, asafoetida and allow to splutter.
Add garlic to it and stir.
Season the rasam with the prepared tadka.
Bring to a boil and simmer for 2-3 minutes. Keep aside covered for 10 minutes before serving.
Serve hot as a soup or with steaming hot plain rice and papads
Enjoy the South Indian soup also known as rassam or chaaru or saaru made from tomatoes, tamarind and jaggery.