Truffle Pistachio Hearts
Ingredients:
1 lb semi-sweet Chocolate Squares
1/4 cup Butter or Margarine
1/2 cup Natural California Pistachios (chopped)
2 cup Whipping Cream
Ground Pistachios or Cocoa or Chocolate Sprinkles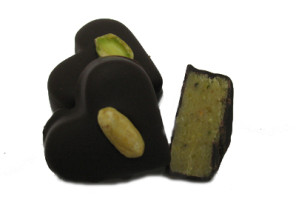 cooking time:
Method:
Pour chocolate squares, cream and butter in a microwave bowl..
Microwave it high for 4-5 minutes till the chocolate is melted, stirring halfway through..
Beat with wire whip until smooth..
Combine chopped pistachios..
Pour into a pan lined with sheet of foil..
Let it chill till it is firm..
Pull out chocolate from pan, hold onto foil for easy handling..
Shape it into heart shapes with a help of knife..
Decorate by dipping sides of hearts in extra ground pistachios, cocoa or chocolate sprinkles..
Arrange on a platter..