Tuna Casserole
Ingredients:
1 can Tuna
1 1/4 cup Milk
2 tblsp Flour
3 tblsp Margarine
1/2 cup Pimento (optional)
1 cup Macaroni (uncooked)
1/2 cup Onion (chopped)
1/2 cup green Pepper (chopped)
1 can cream of Mushroom Soup or Cream of Celery Soup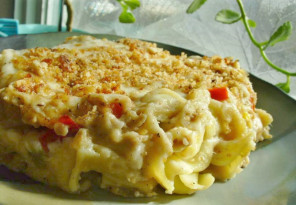 cooking time:
Method:
Cut fish in a bowl.
In boiling water cook macaroni for 8-10 minutes.
Drain it and rinse it in cold water.
Fry onion and pepper in margarine in a skillet till they become brownish.
Combine flour and then milk.
Cook till smooth.
Combine soup, stirring till it gets smooth.
Combine with tuna, pimento and macaroni.
Place it in casserole.
Bake it at 350° for 30 minutes.
Savor the culinary delights of tuna with mushroom soup, pimento, macaroni, and margarine.