Vankaya Pachadi
Ingredients:
For the Chutney 3 tsp oil
2 pieces Eggplants, chopped
2 pieces ripe Tomatoes, chopped
5 green chilies, chopped
1/2 tsp fenugreek seeds (methi dana)
1 tsp mustard seeds (rai dana)
1 tsp cumin seeds (jeera)
3tsp dry coriander seeds (sabut dhania)
8-9 dry whole red chilies
Small ball of tamarind
Salt to taste.
For the Tadka
2 tsp oil
1/2 tsp mustard seeds
4 cloves of garlic, chopped
A small bunch of curry leaves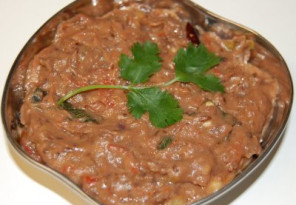 cooking time:
Method:
First of all, soak the ball of tamarind in a cup of water.
Now heat oil in a pan and let splutter for half a minute the fenugreek seeds, mustard seeds, cumin seeds, dry coriander seeds and whole red chilies.
Take this off the heat, let it cool and grind into a paste.
Now in the same remaining oil, fry the chopped eggplants, tomatoes and green chilies.
Take aside and grind this also in a paste.
You should now slowly mix both the pastes uniformly
Now take the tamarind ball and mix with water evenly.
Once done, sieve this entire tamarind paste to take of any seeds and get a smooth tamarind water.
Now mix this tamarind water and salt in the previously made mixture of tomatoes, eggplants and spices.
Once this is done, you should again heat oil in a small pan and put the mustard seeds, garlic and curry leaves in it and let it splutter.
Add this tadka to the chutney and serve with rice or the main food.