Vermicelli Upma
Ingredients:
2 cups Vermicelli
1 tsp Chana dal
1 tsp Urad dal
1/4 tsp Mustard seeds
2 tsp Cashewnuts
2 tsp Peanuts
1 Onions
2 Green chillies
1/2 inch Ginger
1 Potatoes
1/4 cup Peas
1 Carrots
1 Tomatoes
4 1/2 cups Water
3 tblsp Oil
2 tblsp Ghee
3 sprig Curry Leaves
Salt to taste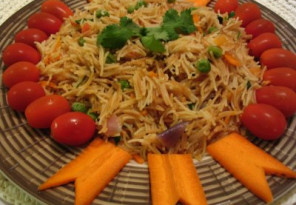 cooking time:
Method:
Chop the onions, chillies, ginger, tomatoes , potatoes, carrots into small pieces and keep aside.
Heat oil and add chana dal, urad dal, mustard seeds and curry leaves. When they start to crackle , add peanuts and cashewnuts. Fry till they turn golden brown.
Add potatoes, carrots and fry for 4-5 minutes.
Then add chillies, ginger , onions, peas and tomatoes.
Cook until they are done.
After that add salt and 41/2 cups of water, cover with a lid and let it boil .
When the water comes to boil add vermecelli and simultaneously stir ( so that no lumps will be formed).
Cover the upma with a lid for 5-6 minutes and then add 2tbsp of ghee and stir well.
Serve hot with coconut chutney.