Vrat Ke Chawal
Ingredients:
2 cloves
3 cup water
2 cardamoms
30 gm ghee
2 tsp kala namak
1 tsp cumin seeds
1/2 tsp chilli powder
125 gms samwat ke chaawal
coriander leaves for garnishing
1 big size potato, diced
cinnamon stick, tiny piece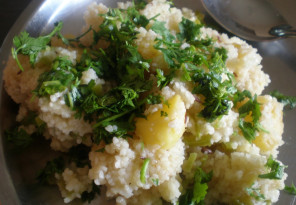 cooking time:
Method:
Heat up ghee, mix in cumin seeds, cloves, cardamoms and cinnamon.
When slightly coloured, mix in potato and rice.
Stir-fry till they look a bit fried.
Mix in salt, chilli powder and water, and bring to a boil.
Lower the flame and simmer, covered, for about 15 minutes or till cooked through and the water is absorbed.
Decorate with corinder leaves and serve hot.