Walnut Palm Cake
Ingredients:
1 cup butter
2 tsp vanilla
3 cup sugar
3 cup flour
1 cup finely chopped walnuts
1/4 tsp salt
5 eggs
1 cup milk
1/4 tsp baking powder
1/2 cup shortening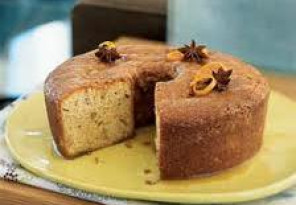 cooking time:
Method:
In a bowl beat the butter and the shortening very thoroughly till the mixture is creamy.
Then add sugar 1/2 cup at a time and beat till very light.
Now add eggs one at a time beating thoroughly after each addition.
Now add 2 cups flour alternately with milk and vanilla.
Finely add 1 cup flour containing salt and baking powder.
Add in the finely chopped walnuts.
Pour this mixture in a pan which has been lightly greased and flour.
Bake this pan in cold oven on middle shelf and turn on the oven to 350 degrees F.
Let the pan baked for 1 1/4 hour and then take out the pan from the oven and let the cake cool in the pan on wire rack.
Tantalize your taste buds with this walnut palm cake recipe. It contains following ingredients: walnuts, sugar, vanilla and butter.