Whiskey Cake
Ingredients:
4 Eggs
1 cup Oil
1 cup Sugar
1/2 cup Coffee
1 Shot Glass Whiskey
2 cup Honey
1 tsp Vanilla Essence
3 1/2 cup Fine Wheat Flour (Maida)
1 tsp Baking Soda
3 tsp Baking Powder
1/4 tsp Salt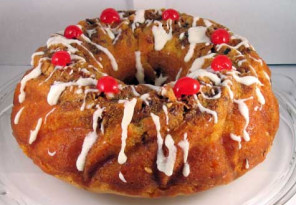 cooking time:
Method:
In a mixer beat eggs, oil, sugar, whiskey, honey, and vanilla for three minutes.
Then for 3 minutes at high speed.
Sift the flour, baking soda, baking powder and salt.
Slowly add the sifted flour in the mixer for 3 minutes at medium speed.
Grease a 15 x 11 inch square pan.
Pour the mixture in the pan.
Baked the pan at 350 degrees for 1 hour and 10 minutes or till the tooth pick comes out clean from the center of the cake.